PolicyView ™
An iPhone and iPad compatible app that houses a comprehensive library of reimbursement policies for Specialty Drugs across leading national and regional payers in the US.
PolicyView™
PolicyView™ provides direct access to thousands of Medical Policies and Prior Authorization Forms for Autoimmune and Oncology therapeutic agents.
PolicyView™ captures the key criteria for authorization and utilization of drugs in Rheumatoid Arthritis, Psoriasis, Multiple Sclerosis, Crohns/Ulcerative Colitis, Lupus, and Oncology (including Breast Cancer, Colorectal Cancer, Prostate Cancer, Lung Cancer, Metastatic Melanoma, Renal Cell Cancer, Multiple Myeloma, CML, and CLL).
request a demo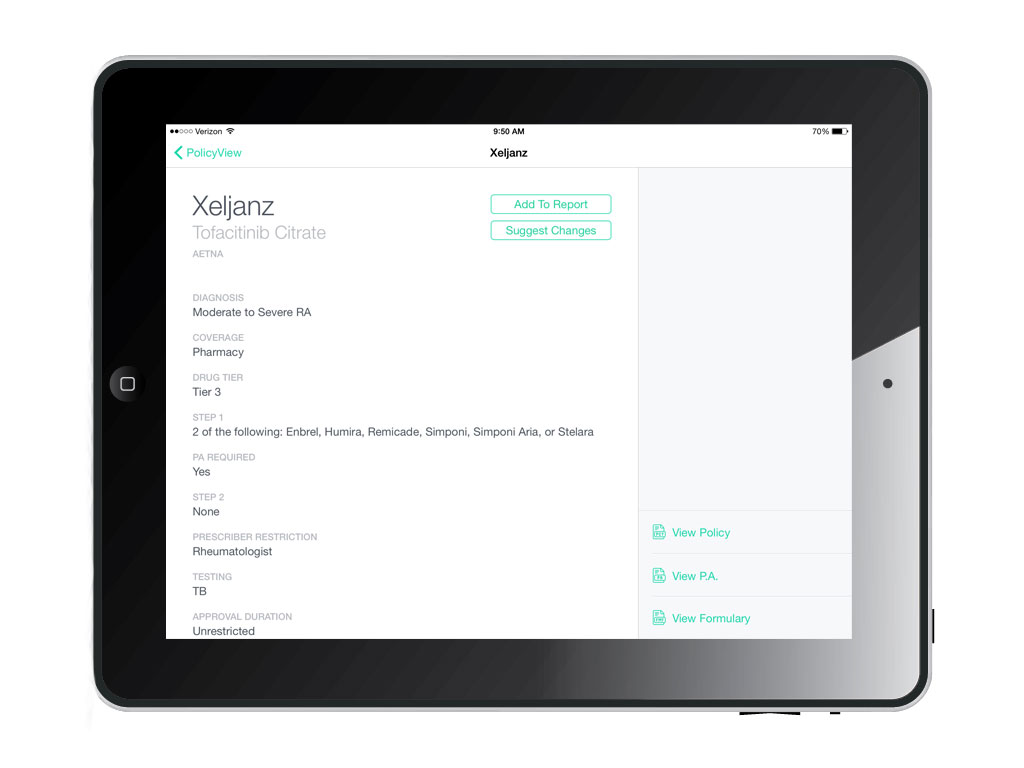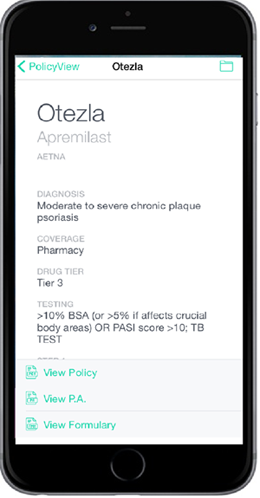 PolicyView's analysis and query functions lets you access the most up-to-date coverage policies for specialty brands so you can:
Track trends in payer coverage policies by category over time
Quickly and efficiently source medical policy data without the cumbersome searching across insurer websites
Create customized therapeutic area and/or drug reports based on key metrics e.g. formulary tier, required testing, and step criteria
PolicyView's access restrictiveness continuum creates payer coverage segments that distinguish restrictions into easy-to-understand levels and categories:
Distinctions in specialty drug access are clearly understood and customized for each therapeutic area
Payer coverage policies can be analyzed within and across therapeutic areas to understand a payer's overall aggressiveness in managing specialty drug categories
Current and historical medical policies can be assessed to understand trends in payer utilization management
request a demo